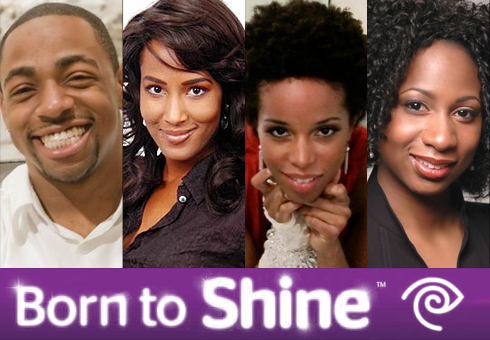 Time Warner Cable's
"Born to Shine"
Wednesday, Sept. 14th - Friday, Sept. 16th
Filiming at Metropolis Studios
106th and Park Avenue
---
Time Warner Cable brings fans the exclusive opportunity to be part of the live audience for the taping of its new original "Born to Shine" series! "Born to Shine" will spotlight African Americans who are paving the way in pop culture, music, film, sports, and the community. Participating celebrities include actor Mekhi Phifer, singer Estelle, director and writer Robert Townsend, former NBA star and philanthropist Dikembe Mutumbo, television actresses Tatyana Ali, Kim Fields, and political columnist Roland Martin among many others! Be the first to meet the "Born to Shine" hosts Kornelius Bascombe, Isis McKenzie, Carmela King and Ashlei Stevens, winners of Time Warner Cable's nationwide host competition. Watch as the winning hosts take the spotlight and interview celebrity guests who will share their personal journeys and insights about moments of triumph and challenges along the way. "Born to Shine" will available exclusively to Time Warner Cable's digital TV customer through its On Demand platform this October! You won't want to miss this groundbreaking series!

Show #
Date
Audience Arrival Time
Taping Time
Show 1*
Wednesday, SEPT. 14
1:15PM - 1:45PM
2PM-6PM
* Two Born To Shine episodes will be taped in this single audience show
Show 2
Thursday, SEPT. 15
9:15AM - 9:45AM
10AM-12PM
Show 3
Thursday, SEPT. 15
1PM - 1:30PM
2PM-3:30PM
Show 4
Thursday, SEPT. 15
4PM - 4:15PM
4:45PM-6:15PM
Show 5
Friday, SEPT. 16
9:15AM - 9:45AM
10AM-12PM
Show 6
Friday, SEPT. 16
1PM - 1:30PM
2PM-3:30PM
Show 7
Friday, SEPT. 16
3:45PM - 4:00PM
4:30PM-6PM
BE PART OF OUR EXCLUSIVE LIVE AUDIENCE!
FILL OUT FREE TICKET FORM BELOW
* YOU MUST BE 18 YEARS OR OLDER TO ATTEND THE SHOWS. YOU MUST LIVE IN THE NEW YORK CITY AREA (NY,NJ,CT) OR BE IN NYC DURING THE FILMING WEEK TO BE ELIGIBLE FOR TICKETS.
---
*
All fields are required.
---
Please DO NOT submit double requests. If you requested tickets via E-Mail already, do NOT request them again here.
If you experience any problems with the web form, you can try this Alternative Method.
This information is NOT shared, sold or used for any purposes other than to accommodate your ticket requests. Our Privacy Policy is available
Here
.
Thank you very much for your interest in the show.
- TheBlackListNYC
Audience Department.
http://www.theblacklistnyc.com/bts